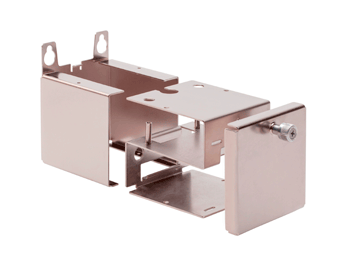 Neway Stamping & Manufacturing offers complete solutions for short-run metal stamping, beginning with our in-house tool room and experienced team of dedicated tool design engineers and toolmakers offering complete tooling manufacture and maintenance.  We encourage our customers to think of us early in the design process, so our engineering staff, die makers and machinists can work with your team to optimize both part design and production process for lower costs, greater manufacturing efficiencies and the best possible quality.
Short-run stamping requires long range vision.  At Neway, through sophisticated production tooling methods and a commitment to continuous improvements, we offer manufacturers one of the best-equipped stamping facilities available for single-stage, progressive and turret press stamping.  Neway will shear material to width or run as coil through our automated leveling, feed and stamping lines.  We provide the options our customers require for prototype, short runs of five or production runs of half a million. 
Combining our design engineering expertise, highly accurate production tooling, full range of in-house secondary operations, outstanding network of outside sources and relentless quality control, Neway represents a unique single source solution to create the parts you need.  Neway clients know they can make strategic production decisions with confidence, because they know Neway delivers the highest quality short-run metal stampings on schedule with exceptional service.
For complete metal stamping solutions call Neway today. - (440) 951-8500